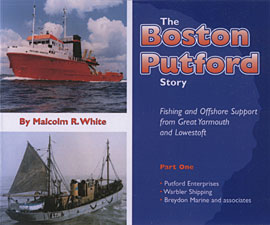 The Boston Putford Story - Part One
Fishing and Offshore Support from Great Yarmouth and Lowestoft
Putford Enterprises, Warbler Shipping, Breydon Marine and associates
The well-known Lowestoft based Boston Putford Offshore Safety Ltd. organisation was set up by a group of companies comprising Boston Deep Sea Fisheries, Putford Enterprises, Warbler Fishing Co. Ltd, the Great Yarmouth based shipbuilders and repairers Breydon Marine, and Mr. A. F. T. Jenson, founder of North Sea Divers. From the very early days of oil and gas exploration in the southern North Sea, the group set out to meet the needs of the offshore companies by providing comprehensive and professional safety services to the industry, which often works in a hostile and dangerous environment.
Boston Deep Sea Fisheries was one of the largest fishing companies in the UK with a major base at Lowestoft, and others at Hull, Grimsby, Fleetwood and Penzance. The company owned and operated a large fleet of fishing craft in addition to many safety standby ships. Putford Enterprises and Warbler were at one time large fishing concerns, with many vessels at Lowestoft and Grimsby. The Boston Putford Story is being covered in a number of sections; this publication being the first part and concerns the present major partner, Putford Enterprises, and also Warbler Shipping and Breydon Marine. The story starts when two of the partners were involved in fishing, and traces the evolution from fishing into one of the three largest offshore support organisations working the seas around the British Isles. A later work will consider the associated East Anglian fleets of Britannia Marine and Boston Deep Sea Fisheries.
In addition to covering the earlier fishing interests of two of the five original companies, The Boston Putford Story - Part One, charts the origins of the organisation, and the history of the vessels owned by four of the companies before and after the setting up of the Boston Putford fleet. Eventually operating all round the British coast, the group's fleet has always been in the forefront of offshore safety activities. Today there are over 25 supply and standby ships of the fleet operating around the British Isles. With the rundown and in many cases the total disappearance of the once great British fishing fleets, many former crew members of fishing vessels have found employment, after training, on Boston Putford ships.
Since early in 2000, Putford Enterprises Ltd, trading with associated companies as Boston Putford Offshore Safety Ltd., has been part of Seacor Smit Inc. This leading American organisation operates a fleet of over 300 ships supporting oil and gas exploration and production, on a global scale.
This book is a Limited Edition, with only 850 copies available. There are 40 colour, and 61 mono photographs, plus 4 historic images in The Boston Putford Story - Part One, together with the history of the organisation and a comprehensive fleet list.
| | |
| --- | --- |
| ISBN | 9780953248582 |
| Pages | 108 |
| Price | £8.95 |
| Photos | 40 colour, 61 mono |
The Boston Putford Story - Part One can be ordered direct from Coastal Publications and is available from any good bookshop.