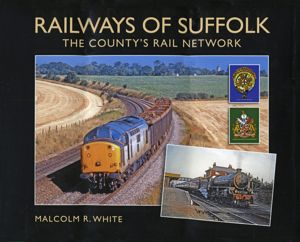 Railways Of Suffolk
The county's rail network
Railways of Suffolk gives individual details of over 90 past and present stations and also all passenger and most goods lines that have existed in Suffolk. Many of the stations are now closed and several of the lines are no longer in existence. Extensive coverage is given to the larger more complex railway centres in the county such as Ipswich, Lowestoft and Felixstowe. Major junction stations such as Haughley and Beccles are well detailed as are all the stations on the many minor branch lines such as the Mid Suffolk Light Railway and the narrow gauge Southwold Railway. The book includes a selection of maps, handbills, labels and tickets.
The comprehensive coverage and wealth of details contained in this book make it unique. No other book featuring Suffolk railways and published by the large commercial publishers and written by fee seeking authors is similar in content to this book. As with all books in this series, this latest title is published on a non profit basis and is written by an enthusiast for the enthusiast.
| | |
| --- | --- |
| ISBN | 9780954732370 |
| Pages | 180 (176 + 4 cover) |
| Price | £9.95 |
| Photos | 294 black and white, 38 colour |
| Cover | Hardback |
| Binding | Sewn (For long life) |
| Dimensions | 210mm x 265mm (8.25" x 10") |
| Series Number | 18 |
| Post and Packing | £1.25 |
Railways Of Suffolk can be ordered direct from Coastal Publications and is obtained from any quality bookshop, either from stock or by ordering.