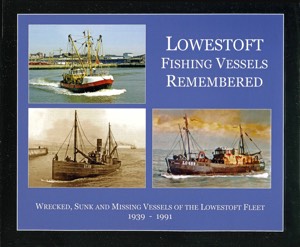 Lowestoft Fishing Vessels Remembered 1939 - 1991
Wrecked, Sunk and Missing Vessels of the Lowestoft Fleet
Many fishing vessels of the Lowestoft fleet have been lost in war and peacetime, often with members of the crew, or the entire crew losing their lives. This sacrifice has never been the theme of any book, and consequently a major part of the town's social and maritime history has remained unpublished.
Lowestoft Fishing Vessel Remembered 1939 - 1991 consists of three main sections, the first provides a summary of World War II losses, the second section gives details of trawler and drifter losses between 1946 and 1991 and the third provides a selection of smaller inshore vessels that have been lost in recent years. A large number of photographs are included in the book.
Section One
As in the Great War of 1914-18, during World War II many Lowestoft drifters and trawlers served with the Royal Navy where they were employed on numerous duties that included minesweeping. Some of these fishing vessels never returned to their home port of Lowestoft due to being destroyed by mines or after sinking following attacks by enemy aircraft using bombs or gunfire. Some took part in the Dunkirk evacuation where they were badly damaged by gunfire or were abandoned after striking underwater obstructions. Other Lowestoft vessels during the period 1939 - 1945 attempted to continue their peacetime occupation of fishing, often off the west coast, but again they were ruthlessly hunted down and attacked by the enemy usually with the subsequent loss of life and the vessel.
Section Two
Following the end of the war, the remaining vessels of the Lowestoft fleet returned to fishing, usually in the North Sea. Vessel losses in the 1940s continued due to several reasons which included some sinking due to leakage, collision damage, hull damage caused by an striking an underwater obstruction and one vessel which failed to return to port due to an unknown reason. The entire crews of two of the trawlers that sank were lost, totally 19 men. During the 1950s, a number of causes resulted in 10 vessels being lost. Of these, four vessels disappeared whilst fishing from Lowestoft resulted in 36 crew members losing their lives. The 1960s saw eight Lowestoft trawlers sinking brought about by fire, a collision, running aground and some through leakage. One of the eight was lost with her crew of 9 Lowestoft men, she never returned home having disappeared on a North Sea fishing trip. Five Lowestoft vessels were lost in the 1970s, of these three ran aground, one sank following an explosion, and one sank in heavy weather resulting in five crew members losing their lives off Cornwall. By the 1980s and 90s, many trawlers were being used as support vessels for the oil and gas offshore industries and during this period seven were lost. The reasons for their loss included uncontrollable ingress of water, catching fire, running aground and being damaged in a collision. Thankfully no crew members lost were lost in these incidents.
Section Three
A selection of inshore vessel losses is featured in this section for the period 1960 - 1990. Inshore vessels continued to be lost and in some cases crew members have lost their lives, the last being in 1986.
| | |
| --- | --- |
| ISBN | 9780957567207 |
| Pages | 120 |
| Price | £12.95 |
| Photos | 154 of which 12 are in colour |
| Cover | 400 gram card - plastic laminated outside |
| Pages | 150 gram silk finish |
| Dimensions | 210mm x 254mm x 7mm |
| Binding | PUR |
| Series Number | Book 21 |
Lowestoft Fishing Vessel Remembered 1939 - 1991 can be ordered direct from Coastal Publications and is available from any good bookshop.